A Message From Ling Ling Chang
Dear Neighbor,
I want to share with you important COVID-19 school and financial updates.
School in July?
Governor Newsom has announced that schools could open in July so that they can make up for some of the classroom time lost this year.
California State Superintendent of Public Instruction Tony Thurmond noted in a statement: "If this [reopening schools] is going to work, there are some major questions we will have to answer. First and foremost: Can this be done in a way that protects the health and safety of our students, teachers, and school staff?"
Thurmond also highlighted that "teachers and school staff will need personal protective equipment and cleaning supplies so that our schools are sanitized. We expect that some form of social distancing will be with us through the summer, so if we start school early, we need resources to make it a reality."
COVID-19 Related Changes in Federal Tax Law
Congress has changed several tax laws to help people make it through these difficult times.
Here are changes that could impact those with 401K plans, health savings accounts and certain kinds of medical bills.
Federal tax-related provisions in the Coronavirus Aid, Relief, and Economic Security (CARES) Act
Waiver of 10% early distribution penalty. The additional 10% tax on early distributions from IRAs and defined contribution plans (such as 401(k) plans) is waived for distributions made between January 1 and December 31, 2020, by a person who (or whose family) is infected with the Coronavirus or who is economically harmed by the Coronavirus (a qualified individual). Penalty-free distributions are limited to $100,000, and may, subject to guidelines, be re-contributed to the plan or IRA. Income arising from the distributions is spread out over three years unless the employee elects to turn down the spread out. Employers may amend defined contribution plans to provide for these distributions. Additionally, defined contribution plans are permitted additional flexibility in the amount and repayment terms of loans to employees who are qualified individuals.
California conforms with this provision – so this penalty waiver also applies for California income tax purposes.
Waiver of required distribution rules. Required minimum distributions that otherwise would have to be made in 2020 from defined-contribution plans (such as 401(k) plans) and IRAs are waived. This includes distributions that would have been required by April 1, 2020, due to the account owner's having turned age 70 1/2 in 2019.
This change also applies for California State Taxes.
Break for remote care services provided by high deductible health plans. For plan years beginning before 2021, the CARES Act allows high deductible health plans to pay for expenses for tele-health and other remote services without regard to the deductible amount for the plan. 
California does not conform to this section of federal law.
Break for nonprescription medical products. For amounts paid after December 31, 2019, the CARES Act allows amounts paid from Health Savings Accounts and Archer Medical Savings Accounts to be treated as paid for medical care even if they aren't paid under a prescription. Amounts paid for menstrual care products are treated as amounts paid for medical care as well. For reimbursements after December 31, 2019, the same rules apply to Flexible Spending Arrangements and Health Reimbursement Arrangements. 
California never conformed to the federal Health Savings Accounts provisions, one of only a few states. There have been numerous attempts over the years to confirm and it is something I support.
IRS information site. Ongoing information on the IRS and tax legislation response to COVID- 19 can be found at https://www.irs.gov/coronavirus.
As always, if there is anything we can assist you with, please don't hesitate to email Senator.Chang@sen.ca.gov or call 714-671-9474.
Sincerely,
Ling Ling Chang
29th District
Calling ALL Students: Mother's Day Video Contest!
Deadline is Thursday, May 7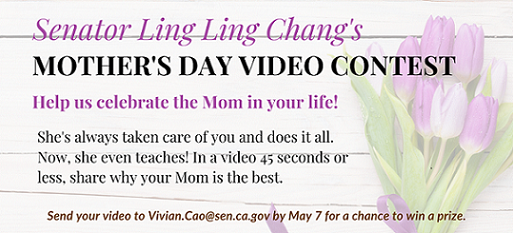 Help us celebrate the mom in your life! Join my Mother's Day Video Contest by creating a short video on why your Mom is the best. A big thank you to all the amazing moms out there - we wouldn't be here without your love and support.
Contest Rules
1 entry per student
Video must be no longer than 45 seconds
Submission deadline is Thursday, May 7
Send your video (or link) to Vivian.Cao@sen.ca.gov
Include the student's name, school, grade and parent contact information in the submission email
Due to the family-oriented nature of this contest, inappropriate content will be immediately disqualified
A panel of judges will review and select winners based on content and creativity.
Winning prizes include a 20 minute photography session on your porch by Michelle Vega Photography, oil service & comprehensive car inspection, gift cards, and DIY STEM, boba, cookie, and craft kits
Missed My COVID-19 Teleconference with Health Professionals?
If you missed my COVID-19 teleconference with health professionals on April 29 and would like to listen to a recording, please email Senator.Chang@sen.ca.gov for a copy.
As a reminder, our guest speakers incldued Dr. Sajen Matthews, Chief Medical Officer at St. Jude, and Dr. Saahir Khan, Clinician-Scientist in Infectious Diseases, Novel Diagnostic and Vaccine Technologies at UCI.
COVID-19 Superhero Drawing Contest Winners
A HUGE thank you to all the young artists that participated in my COVID Superhero Drawing Contest. I truly enjoyed seeing your artwork! The fight against coronavirus continues, but your creativity makes our community SHINE in these tough times. Parents, thank you, for encouraging your students to participate. I want to wish a special congratulations to our student winners:
Fan Favorite

Deetya S. from Brea Country Hills Elementary in Brea

Kindergarten - 3rd Grade

1st Place - Alyssa L. from Killian Elementary in Rowland
2nd Place - Athena W. from Castle Rock Elementary in Diamond Bar
3rd Place - Anderson B. from Los Coyotes Elementary in La Palma
Honorable Mention - Juliana J. from Los Coyotes Elementary in La Palma

4th Grade - 6th Grade

1st Place - Antra S. from Collegewood Elementary in Walnut
2nd Place - Yuri Y. from Sunset Lane in Fullerton 
3rd Place - Alishba T. from Los Coyotes Elementary in La Palma
Honorable Mention - Claire O. from Stoddard Elementary in Anaheim